Matoshri Bayabai Shripatrao Kadam Kanya Mahavidyalaya, Kadegaon
Ranked 99th in India, in NIRF Ranking 2017
Re-Accreditated by NAAC (3rd Cycle) with 'A' Grade (CGPA 3.21) in October 2017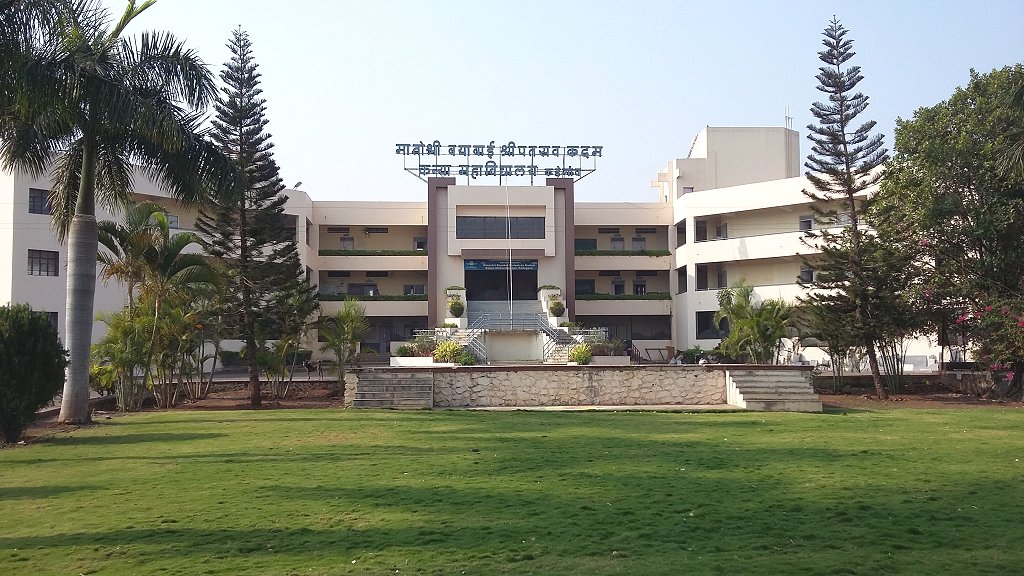 The college is located on Karad - Vita Road, (i.e. 20 km to the East of Karad and 22 km to the West of Vita.) The college site is very attracting and of academic impression. The complex is very safe and useful for the girl students for their career making. It is the unique centre in the western Maharashtra for girls degree education. Its quality education has been certified and recongnised by NAAC. The UGC has also enlisted the college under section 2(F) and 12(b).
Bharati Vidyapeeth started Matoshri Bayabai Shripatrao Kadam Kanya Mahavidyalaya, a degree college, especially for girls at Kadegaon in 1990.
The college is established for the education ,welfare and empowerment of the women in this region. It is named after the mother of Dr. Patangrao Kadam.She, a holy, pious women , though illiterate , was very keen for women education and their upliftment .
The college runs the Degree courses in Arts , Science, and Commerce affiliated to Shivaji University, Kolhapur.
Bharati Vidyapeeth's every educational institute or complex is a jewel like landmark in the city / town / village so is Matoshri Bayabai Shripatrao Kadam Kanya Mahavidyalaya, Kadegaon. The monumental three storied building has well equipped , well furnished spacious and ultra modern class rooms and laboratories. The three storied two hostel buildings with all modern amenities accommodate 500 of the students from our college.
The Library section of the college is very prosperous full of stacks with thousands of books, references books, journals ,periodicals etc.
The separate reading halls and the overtime issuing hours help scholarly faculties and students from the college.
The Gymkhana equally matches to the college .Eight laned 400 mtrs. running track, along with well maintained grounds for all national and international games, is the unique feature of college. The facilities for indoor games and multigym are also available.
College at a Glance
Location : Village / Rural
Affiliating University: Shivaji University, Kolhapur.
Year of Establishment: July 1990
Year of Affiliation: Temporary Permanent

Temporary : 1991
Permanent : 2001

Year of Recognition by UGC under section 2(f) & 12(b): 5th June 2003.
Year of Last Accreditation: 2005 , Rating : B +
Year of Re-accreditation : 2012 , Grade : A, CGPA – 3.13
Type: Government aided
Category: Affiliated.